| | |
| --- | --- |
| Posted on October 10, 2016 at 1:30 PM | |
Renewed Request, time is running out. Please click on the image to follow the link to donate or join my team and walk with us.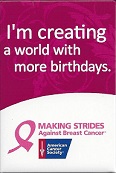 Why I am Making Strides
Because I want to make a difference in the fight to end breast cancer. I know that by raising funds and walking in the American Cancer Society Making Strides Against Breast Cancer event, I will help save lives from breast cancer. It is also a relatively short walk and one I am physically capable of doing with my disabilities.
I hope that one day breast cancer, or cancer of any sort, will never steal another year from anyone's life. Making Strides is not only my opportunity to join my community to fight back against breast cancer, but it is also a way to inspire hope by raising funds and awareness to help those facing the disease. That's why I'm walking.
Who I am Making Strides For
My reason for walking in the Making Strides event is personal – just like every other walker's story. We all walk because we've been affected by breast cancer, or any other type of cancer, in some way, and because the Making Strides event gives us the power to make a difference and fight back. It also gives us a feeling of unity, joining together to fight a common foe. This is my opportunity to honor breast cancer survivors, including my Aunt, and to remember people we have lost to any form of cancer. Just last year I lost my grandmother to cancer as well. I hope you will join me in trying to make a difference. I have lost several familiy member to cancer in one form or another and as of very recently I can say that I am in remission and can consider myself a cancer Survivor.
I have signed up to walk and fundraise with Making Strides Against Breast Cancer. I hope you will consider joining my team and/or making a donation in support of my efforts.
Together, we can make a differnce!
Rivka